By Sean Morris

Growing up in Northern California in the early 1990s,
I was constantly exposed to superior rap talents regardless of region.
My personal barometer for a rap album's success was the Top 25 sales rankings at my neighborhood Tower Records in the Stonestown Galleria.
Illmatic
was in the store's Top 10 the week it came out, then subsequently lurked around the bottom of their charts. S
hitty automobiles with top shelf sound systems rarely if ever pulled up to San Francisco traffic signals bumping "N.Y. State of Mind."
When I first heard "It Ain't Hard to Tell" I thought, "why is Nas rapping over the same Michael Jackson sample SWV used for the
"Right Here" Remix
from the
Free Willy
soundtrack?" I did not buy the album until three months after its release, when
Yo! MTV Raps
finally put the stark "The World is Yours" video in quasi-regular rotation. Never underestimate the power of a Pete Rock beat.
Nas' acclaimed freshman effort just barely made my top ten albums of 1994 list.
New Yorkers of a certain age deservedly placed Illmatic on a pedestal when it first came out, most notably former hip-hop bible The Source. But the very same publication that declared the recording a masterpiece utterly ignored it at its own awards ceremony. 1995 Source Award winners included The Notorious B.I.G., Wu-Tang Clan, Snoop (then Doggy) Dogg, OutKast, and Craig Mack. Craig. Mack. "Flava in Ya Ear" and "Get Down" were hot singles for sure, but come on. In a 2011 Pitchfork interview,
?uestlove gave us his account of the proceedings, seated three rows back from the man who would be Escobar:
"Nas' body language that day told the whole story of where we were about to go. The more he got ignored for Illmatic, I literally saw his body melt in his seat. Almost like he was ashamed. He just looked so defeated. I was like, 'Yo, he's not gonna be the same after this shit.'"
The Source's anointing and subsequent snubbing of Illmatic must have made it easier for Nas to stomach ideas like radio-friendly singles and first person crime narratives. Six months after Illmatic finally went gold, It Was Written was the number one album in the United States, and remains Nas' best-selling release (I would argue best, but so would Lupe Fiasco, and I don't want to associate with anyone who refuses to listen to Midnight Marauders). In 1998, The Source published their 100th issue and declared Illmatic "

the most underrated hip-hop album in history," giving birth to the mutant myth as we know it today.
1994 was the dawn of rap's mass commercialization, particularly of the gangsta derivation. Somewhere on my time travel wish list, I have "find authors of Illmatic 20th anniversary think pieces as teenagers and catch them listening to Coolio, Da Brat, and Warren G more." All of these artists and more went gold or platinum before the end of 1994. llmatic did not go platinum until 2001, the year Nas dropped Stillmatic. Sales figures are by no means an adequate gauge of any album's quality, yet comparable albums of the era that sold even less than Illmatic have never had "slept-on masterpiece" statuses bestowed upon them. Only one of the so-called "think pieces" I have read this year provided an honest glimpse of the state of hip-hop in 1994, and Illmatic's place in it: an album whose acclaim was inversely related to its cultural impact.
These are the nine albums that I prefer:
Between September 1993 and October 1994, Hieroglyphics released Souls of Mischief's 93 'Til Infinity, Del tha Funkee Homosapien's No Need for Alarm, Extra Prolific's Like It Should Be, and this. It wasn't nearly as triumphant as Wu-Tang Clan's 1995 domination, but the Oakland-based collective's release schedule was nearly as rewarding. Fear Itself is my favorite due to a gloomier take on the jazz sampling trend prevalent at the time, and Casual's leisurely yet potent delivery, allowing his punchlines to land with blunter force. Saafir's freestyle on "That Bullshit" is also one for the history books.
Even I kinda slept on this when it first came out. Overshadowed by Death Row's juggernaut Murder Was the Case Soundtrack and (if you lived in the Bay Area) Spice 1's Amerikkka's Nightmare, Resurrection didn't get as much play in my Walkman as it should have. One of my high school classmates used to enter the cafeteria tossing off quotables like "I see low, I see high, Hi-C I'm free at last," and "Another Wasted Nite With…" is widely regarded by those in the know as one of the funniest hip-hop skits of all time. No I.D.'s dynamic beats and Common's playful, scat-like experiments with grammar and cadence shine brighter with every passing year.
The first Horrorcore act featured on MTV News were just joking around. Prince Paul, RZA, Fruitkwan, and Too Poetic saw the genre's growing obsession with mortality and took it to the extreme. But 6 Feet Deep was not all about cups of blood and serial killer testimonials. Gravediggaz balanced their concept with grim storytelling and honest rumination. They knew that the New York neighborhoods they called home could and should be seen as zones of torture and calamity. Plus, with Prince Paul and RZA producing together, importance easily trumps "in poor taste."
Place The Sun Rises in the East side by side with Illmatic, and it's a jump ball. Both are loaded with knowing poetry, memorable stories, and sizzling boom bap. I give Jeru's debut the edge because of a more diverse array of lyric topics and the fact that DJ Premier produced the entire thing. The Shelly Manne balaphone sample alone on "Come Clean" is nothing short of iconic. The original Kendrick (Davis, that is) was just as spectacular employing his large vocabulary in boasts as he was in other battles, be they real (the controversial "Da Bichez") or imaginary (Mr. Ignorance in "You Can't Stop the Prophet"). This and 1996's Wrath of the Math represent, in my humble opinion, both of these artists' best work.
In the immortal words of 1994 poet laureate Rayanne Graf, "duh squared." However, in keeping with my own "don't pretend you were listening to Illmatic when it first came out if you weren't" philosophy, I admit that I did not listen to Ready to Die until a year after it was released. The reason: "Juicy" and "Big Poppa." In an era when sampling was still an art form, calling those beats lazy in comparison is an understatement. When I finally copped the "One More Chance" cassingle the following summer, I heard "The What" and realized I had been missing out on one of the most singular voices in the genre. Discovering that the rest of the album was nothing like those chintzy radio hits was revelatory. No other MC at the time had such a mastery of drawing you into a fatalistic fantasy world.
They didn't win Best New Artist at the '95 Source Awards for nothing. Brilliant from day one, Big Boi and Andre pre-3000 did on their first album what most rappers take multiple albums to do: they matured. The first half of Southernplayalisticadillacmuzik is Atlanta's answer to the Death Side of Ice Cube's Death Certificate: a parade of vengeful pimps pressing .357s Magnums against foreheads before celebrating Christmas in a haze of weed smoke. A sextended R&B interlude was straight out of the N.W.A./Too $hort playbook. Without warning "Git Up, Git Out" and "Crumblin' Erb" reveal a pair of apathetic 18 year-old souls craving direction. We know they would soon find it, and then some. Organized Noize's homemade funk was an anomaly at the time, deservedly becoming the norm in the Dirty South by decade's end.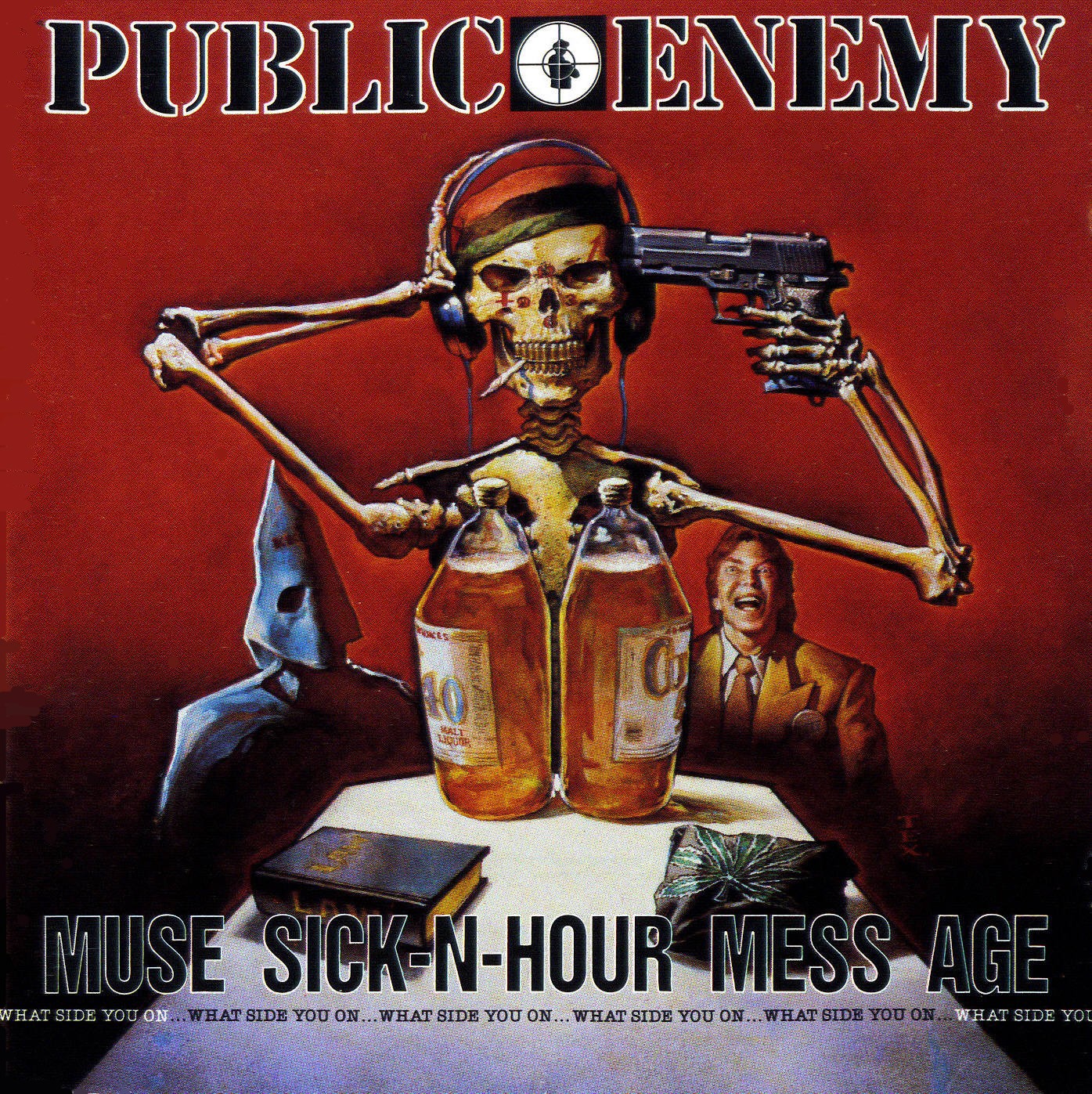 It is hard to find champions of Public Enemy's massively ignored fifth album. Released in the midst of "music to drive by to" season (MC Eiht's We Come Strapped had debuted in the Billboard Top 5 a month earlier), critics and listeners alike rejected any form of social commentary denigrating the influence of gangsta rap. In this age of superstar MCs in their mid-40s, it is funny to remember that Chuck D was dismissed as "over the hill" at age 34. In actuality, he was as wise as ever, and saw the writing on the wall. The balance of power was about to become an imbalance of power, and the days of political and criminal rap albums getting equal face time on even BET's Rap City were numbered. But Muse Sick-N-Hour Mess Age was more than just an anti-crime rhyme screed. Terminator X's trademark screech was bolstered by a live band, Chuck D raged about pre-programmed patriotism in schools and a broken health care system, and Flavor Flav covered The Last Poets. An unjustly forgotten classic.
Reclaiming the funkadelic samples that EPMD had flipped long before The Chronic, Redman and Erick Sermon took stoner musings to hell, outer space, and everywhere in between. Turning on a dime from comic to horrific, Dare Iz A Darkside undoubtedly fathered Slim Shady, Ludacris, and more. Alongside his usual rowdy rabble-rousing ("Can't Wait," "Winicumaround"), Redman portrayed multiple characters ("Green Island") and conjured up a ghastly vision of erotic fan fiction ("Soopaman Luva II"). Endlessly creative and marginally successful but largely unsung in the ensuing years, Redman never made another album that sounded anything like Dare Iz A Darkside. Bad news for rap fans, good news for Red's mental health.
Scarface always had a flair for morbid narration, but on "I Seen A Man Die" (aka "I Never Seen A Man Cry") he chillingly reimagined the grim reaper as a sunglasses as night wearing, black rose toting mob boss. The Diary also presents Brad Jordan as outlaw ("Jesse James"), Lothario ("Goin' Down"), and ambassador ("Hand of the Dead Body," featuring one of Ice Cube's last noteworthy verses before receding into caricature). N.O. Joe and Mike Dean, like Organized Noize, favored live instrumentation, further solidifying southern hip-hop as a force to be reckoned with. Death Row and Bad Boy ruled the roost at the time, but The Diary's pathos and introspection have stood the test of time. Mike Judge also helped out a little.
Cases could also be made for many other landmark recordings from 1994: Digable Planets' Blowout Comb, Beastie Boys' Ill Communication, Thug Life: Volume 1, Method Man's Tical. The diverse sounds of one of 90's hip-hop's greatest years are being drowned out by the deafening over-praise of one debut album.