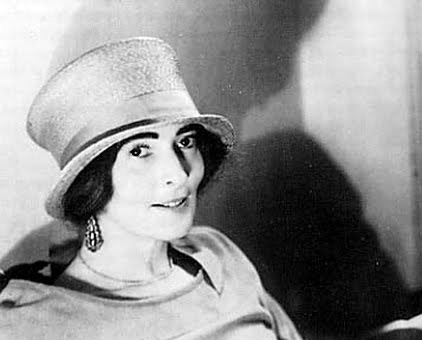 1882-1966
Yay! A new series just for Women's History Month!
Women You Should Know
is a series profiling some stellar females who you might not be familiar with -- ones who were not superbly famous, or whose contributions might have been lost in the cracks of time.
MINA LOY
When I first read about
Mina Loy
, I was stunned I'd not heard of her sooner. I read
Becoming Modern: The Life of Mina Loy
from cover to cover -- real fast. She had that kind of
Midnight in Paris
life - in fact - she could have been a character in that movie. Her wanderlust leading her from England to Paris, to Florence, to Mexico, to New York -- the kind of life you wish for as an artist, traveling in creative circles with legends from Duchamp to Cornell to Djuna Barnes to Gertrude Stein:
Curie
of the laboratory
of vocabulary
she crushed
the tonnage
of consciousness
congealed to phrases
to extract
a radium of the word
(Mina Loy)
Consider Your Grandmother's Stays (1916)
She seemed like someone you'd want to know, touched tremendously by love and loss, who'd had
a very full life
and priceless stories. A sort of ultimate Bohemian from her Jewish-English Victorian upbringing to her traipsing round the globe, her marriages and loves, and her willingness to bounce back, reinvent, create resilience.
Loy accumulated a body of work in visual art, decorative art, and poetry. Collector
Peggy Guggenheim
was a benefactor - the great art dealer
Julien Levy
was her son-in-law. Her poems have been collected and published in
The Lost Lunar Baedeker
. Rereading her work now - it still feels fresh - there is a creative wordplay, a precision of image, and a kind of fearlessness in creating meaning.
Loy believed in love, life, fun, creativity, innovation, freedom. She didn't give up her art for her loves, her loves for her freedom, her femininity for her beliefs. To me, she's a great spirit whose life cannot be separated from the work and the descendants she left to carry on after her.
(If you'd like to be a guest blogger in the Women You Should Know series, contact me with your idea for who you'd like to profile! Ground rules: Non-living female, not a household name, no more than 500 words.)