BEATRICE WOOD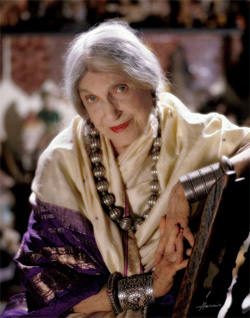 Personally, I've never thought about living to 105. Maybe
Beatrice Wood
didn't either. She seemed to live her life with style, flair, individuality and a unique sense of being in her moment. Ceramicist, artist, performer, writer, bon vivant, she lived the longest life you might imagine, and all of it productive, interesting, and on her own terms.
I found out about her from a friend, who had visited
her studio in Ojai
, where she crafted her pottery. While in NY on a trip, I discovered there was
an exhibit of her watercolors at an Upper East Side gallery
. Her paintings were delights. The lines reminded me of Joni Mitchell's, but they had a sense of humor, playfulness, and sexiness about them, too. You could tell she had great stories to tell. I've still not read
her autobiography, I Shock Myself,
but it's hard to resist a title like that!
Jules et Jim
Her relationships with Roche and Duchamp may or may not have been the inspiration for the triangle in
the novel Jules et Jim
- which yielded the
incredible classic film by Truffaut
. And was the inspiration for
Old Rose in Titanic!
"My life is full of mistakes.
They're like pebbles that make a
good road."
So - what do you learn in over a century? How to make the mistakes into perfection. Like this:
I wholeheartedly embrace her philosophy on longevity:
"I owe it all to chocolate and young men."
And thank her for the signposts, and the pebbles, in the road. Beatrice Wood is definitely a woman you should know.
(If you'd like to be a guest blogger in the Women You Should Know series,
contact me with your idea
for who you'd like to profile!
Ground rules:
Non-living female, not a household name, no more than 500 words.)